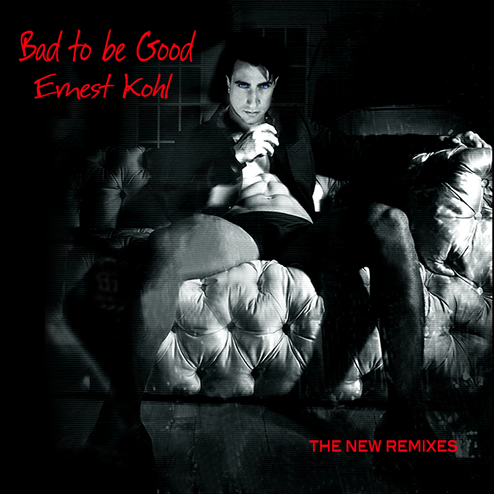 "Bad To Be Good - The New Remixes"
"Anyone Who's Ever Been in Love" Remixes
Ernest Kohl is back with a brand new single. The maxi contains not less than 30 different remixes (a record !), ranging from Hi-NRG to electro, and I guess it won't be easy for you to chose your favourite.
Ernest's smooth as silk and sensual vocals glide over delicate synth lines, with a bouncy beat which simply demand to be grooved to.
It will be featured on 2013 musical (and upcoming movie) "The Cosmopolitan", written by Lance Horne and Josh Rhodes (Golden Globe, Grammy and Emmy Winners).
A very nice package, beautiful and heart warming stuff from a talented artist.
Karine Sanche
The Eurodance Encyclopaedia
"Say Adieu" Remixes
Ernest Kohl makes a return to the world's dancefloors with an all-stops-out new dance anthem of major proportions. "Say Adieu" joins the top shelf of the Kohl catalog, which already includes bona-fide #1 club classics like "To Save The Love", "Sooner Or Later", "Follow Your Heart" and so many more.
This soaring, absolutely dazzling new release is easily one of the best ever, and it's equipped with a plethora of ear-pleasing options from some of the biggest names in contemporary clubland.
The Paul Goodyear Big Room Mix is an outstanding circuit-centered contender aimed at keeping club floors packed (and it does!).
PWL alumnus Dave Ford turns in an equally potent pop-euro version that's sure to cause the soaring pulse rates for Kohl's international legion of fans while Los Angeles' red-hot Perry Twin's turn gives the song a decidedly American spin. It's an amazing, energetic peak-time remix that should quickly become a mainstream club and dance radio station staple all over the good ol' USA. We can't stop playing it!
Additional extended mixes come from long-term Kohl collaborator Steve Skinner (an amazing job, as always) and talented newcomers Elliot's Mister-E and Keith & Carnaby (the latter's Banger Club Mix is exactly that!), for a truly blockbuster package for one of the best singles of the year.
Our Top Dance Single Pick of November 2008! Don't Miss It!
Dean Ferguson
Music Editor
Import Express and DMA
"Essential" & "Say Adieu" Remixes
The prince of American HiNRG returns with a smashing new song "Say Adieu" with many remixes, and a double compilation called "Essential" with elegant booklet and many photographs from his 25 years career in eurodance music.
One of the mixes is by infamous ex-PWL producers - Dave Ford and Ian Curnow.
"Essential" is being released in most parts of the world, 10/10/08 by DANCE STREET-ZYX, Germany and will be available soon domestically in the USA along with the single "Say Adieu" which has some rather unexpected and amazing producers from past and present on the single that is rumored to sound in the vein of the club classic "To Save The Love".
If you like male vocals, and NRG music from Euro to disco - you'll love this!
Jason E. Davis, Editor
EuroDanceHits.com
"Only You 2005" UK Club Remixes
American NRG superstar Ernest Kohl returns with an updated version of his classic club cover of the Yazoo hit, and it's NEVER sounded as hot as it does now. Nobody has better commercial club sensibilities than Kohl, and the line-up of remixes here is first rate.
Both the 12" vinyl and the CD Maxi contains the full-on UK Extended Club Mixes - a thrilling combination of classic UK HiNRG and mainstream trance-anthem power, and the smokin' Chris 'The Greek' Panaghi pop house remixes.
The CD Maxi adds two amazing bonus remixes too - the soaring Julian Marsh Powerdrive anthem remix and the equally impressive Circuit Anthem remix by legendary Hot Tracks veteran Stephen L Freeman.
CALLING ALL NRG MAVENS! THIS ONE'S FOR YOU!
Dean Ferguson
Music Editor
Import Express and DMA
"All I Know" Remixes
If you haven't heard of Ernest Kohl and you are into euro dance and HiNRG club music you have been under a rock! The guy is America's Thomas Anders, and has been pumping out hit dance tracks for almost 15 years around the world. A professional model, producer, actor, dancer and of course singer. This track comes fast on the heels of his tremendous hits "You Make Me Weak", and "Only You" in the last year or two, and several other singles and CD albums. The new album "Adventures In Emotion" is slated for a release in Spring 2004, including "You Make Me Weak" and this awesome Art Garfunkel/Jimmy Webb cover, "All I Know". In this new project, Ernest Kohl left the USA to get the European touch for the album and single which includes 5 extended mixes and 4 for radio play.
Reaction to the single has been swift, and I have to say that I am in awe at the progression in the musical direction on this groundbreaking new track. Equal parts euro energy, HiNRG and vocal trance in the mixes we have something for any fan of any of these genres. That is compounded by the glorious vocal performance that compares to the finest of Europe's most celebrated artists in dance music and pop as well. He has a great passion that's felt in the delivery and it reflects his unique vocal talent, that has been such a success even in America where dance music is not terribly celebrated as we all know, and has had 16 'TOP 10' dance club hits since the beginning of his career (based on USA media charts).
My first introduction came with the stunning euro disco smash "To Save The Love", which to this day is a tea-party dance anthem. "All I Know" takes a euro flight as I said, and the results are nothing short of STELLAR. The remixes by Mike Coppock and Tony Spalding of Majic and Loading Bay Records/UK are brilliant. I especially like the beautiful cello solo and Luis Rodrigues feel to the mix, with that dash of euro disco here and there and a touch of new age trancey synths. U.S.A. ciruit party DJ Julian Marsh gives the "Power Drive Extended Mix" a Hex Hector feeling to the percussion, while maintaining most of the strings and although less dramatic will appeal to the big room trance crowds.
The "Stephen L.'s Circuit Mix" is again a more circuit feel, but with much more electronica happening. The 'Stephen' in question is none other than the famous HOT TRACKS DJ service remixer Stephen L. Freeman, so DJ's should know his work very, very well. I don't care for this version much, as the production seems a tad lazy and boring - sorry Stev!!! The best is coming up - trust me!
For the euro energy muscle hobbits out there (like me!), that flipped over the Mark Asheley track "When I See The Angels Cry" (like me!) last year, will undoubtably favour the mix by Las Vegas based Robert Oleysyck's 2 remixes. He does a stunning job turning this single into a sparkling HiNRG/euro smash using vocoder effects a'la Cher's "Believe", and has some stunning Berman Brothers dark styled synth lines and a cascading piano effect. I am astonished this is from a guy in the USA, let alone Las Vegas, but perhaps there is hope for the USA with producers like this making music like this remix. A truly brilliant and captivating arrangement that is my pick as THE one to play in most venues.
The other "Las Vegas Club Mix" again by Robert Oleysyck is a fluidic trance outing that is very much in the vein of the remixes that Enigma, Sarah Brightman and Delerium are releasing these days. I think this one will grab the HiNRG purist's ear the most, and has a distinctly brooding feel to it, perfect for late night sets in underground clubs. The beat is pumping and tribal in a good way, and is what I'd consider a perfect 'dub' mix, with minimal vocals. If you like your euro and/or club music exceptionally beautiful with prolific vocals and undeniably fashionable arrangements, this masterpiece is 'da bomb' for early 2004.
Jason E. Davis, Editor
EuroDanceHits.com
"Hits!"
For those who may just get to know Ernest Kohl through this excellent, precise greatest hits collection will likely fall into the realm of major fan. Long a HiNRG hero, as he is an American singer; his career has spanned since the 80's with some of the most gorgeous, orchestrated produced dance music we have ever seen from the "ole" USA. Vocally he has been called North America's Fancy, Bad Boys Blue (John McInerney of course!), Thomas Anders (solo, and Modern Talking) or Jason Donovan (PWL). A velvet voice with a penchant for euro base NRG music. Over the years this man has had many BILLBOARD and specialty chart toppers, which are included on this massive album.
The 2004 smash "All I Know" is included in it's gorgeous "UK Extended Mix" (8:55), produced by none other than Mike "Big Bird" Coppock (I never did, and won't ask what that means) and Tony Spalding.
Yazoo had an early 80's #1 with "Only You" (8:45), which Ernest Kohl released in the mid-90's UK market. Mildly successful here in North America at the time, and huge in Europe; this is as fine as the nu-NRG sound can get. Inspired vocals, richly textured synthesizer arrangements and gracious percussion highlighted by stunning ambient big room trance synthesizers. We do not even see production this grand on more celebrated mainstream EU dance acts like Lasgo and Milk INC., that have become odd staples in some clubs. Again, this mix is by those very talented crown jewels of dance in the UK, Mike and Tony. I will review the 2005 remix pack that is currently topping most charts in the USA at time of writing this review, and there are 5 club mixes (including this one!).
"You Make Me Weak" (7:17), is an original, non cover track and a cult NRG masterpiece. For fans of the new smash Swedish group, Bodies Without Organs (although not as campy); you will adore the electro NRG feel of this originally DJ only mix by the USA company "X-MIX". It is extremely rare, and finally available to the consumer. Again, frothy vocals with a distinctRG nod are the flavor of the mix, but strong euro influences abound with a slightly Hex Hector feel to the percussion.
The "euro house" sounds of Black Box/C&C Music Factory/Cappella get the nod on "Don't You Want My Love?", and will be a treasure to you if you liked that era of early 90's magic. I heard many excellent tracks on MEDIA and ITALIAN STYLE records, respectively; in Italy that had this clunky house style set to a duet vocal, and big strings and strong piano accents. A style that made it's mark in the 1990-1993 years. Still sounds fresh today on this single, remixed for this album.
The next single "Stomp" is again very much the same in style; catering to the mid-90's handbag house sound described above, again remixed for this album. Ernest Kohl's biggest hit came in the very early 90's PWL/SAW days with the utterly brilliant "Follow Your Heart"(8:38) and garnished him massive club and media attention and ultimately a very loyal fan base that live on today strongly in the UK, Germany and USA. Soaring strings, and melancholy vocals make this a true masterpiece of HiNRG dance music. The only thing missing from the album, sadly, is his 80's smash "To Save The Love" which I assume for legalities was not available to include here. If you like this one, sell your soul to find it on a compilation or vinyl: it is worth a fortune on vinyl today.
"Follow Your Heart" is the closest thing you'll ever find to a non-PWL produced/penned track and to fans of that polished NRG style, the album's price is worth it just to get this 12" mix securely and digitally re-mastered on this collection. Truly brilliant dance music!
"Our Love Is Here To Stay" (Lat Laugh Mix) (7:54) finds Ernest Kohl doing a stunning 1996 styled NRG based song I'd of expected from Love To Infinity" in that era, and I had never heard it before. String arrangements to die for and the lyrics are very, very self empowering in it's message. If you normally don't bother with those silly lyrics (some people don't, oddly!) this is a song to bring strength to ones self when you are down, hate the "ex" or just the world in general. Been there, done that; but these songs when done so very well are timeless and I just love it. This one again sounds like a hybrid between PWL/SAW and at times Black Box; but full male vocals that are center stage on the mix. Obviously, a great deal went into the lyrical content of this song, and I believe people who have not heard it before will treasure it along with everything from "I Will Survive" (Gloria Gaynor) to "If I Have To Stand Alone" (Lonnie Gordon).
Yes, this means YOU too.
In the quad of Ernest Kohl's four biggest club hits, stands this magical track called "Sooner Or Later 2005". The "Extended Later Club Remix" (7:22) is a new version of a previous TOP 10 smash, remixed in a more fluid euro-energy fueled version for this collection. The basic message here is don't try to avoid love, it will find you. It's true, it does; just when you are not expecting it. I guess that is why love is special in that way. The bridges in the remix are very electro and NRG to the max, and I adore it as do many of my friends I have allowed into my home. Again, fans of the best of PWL/SAW compositions should really take note on this one. I believe PWL International should be heading this way, instead of the more "safe" songs that the group POP! had very mild success(?) with last year, and have now disbanded.
Finally someone has put out a great New Years Eve track for 12:01am, with "Happy New Year!" (Pop Yer Cork Club Mix) (6:31).It has all the festive chimes and upbeat glow of a Christmas carol, with a galloping euro/HiNRG bass line; and poignant lyrics for the occasion. Quite frankly, I am tired with ABBA's 1980 "Happy New Year" (this is NOT a cover of that) by digitally changing the lyrics. I believe this one is the finest New Years Eve dance track I have ever heard, and is flawless. Guest vocals from house diva Miss Pepper Mashay on background vocals make this even more essential. No DJ in his/her right mind into NRG/euro or circuit house music should be caught dead programming next year with out this mix!!!!! A true classic is born, and a seasonal "must play" track.
Speaking of must play, this album is a blast all the way round. Pristine vocals, brilliantly penned songs and a couple of great covers; all to various yet great productions focusing mostly on the NRG arenas. As a listening album, it can't be beat for it's "feel good" qualities; and this is the best "greatest hits" album I have heard in years.
Rating : 5 Stars
Jason E. Davis, Editor
EuroDanceHits.Com (EuroNRG Division)
"Only You 2005" Remixes
The first single from Ernest Kohl's new greatest hits collection is "Only You" remixes for 2005, and is our fastest climbing track so far this year on the charts; only Laura Branigan's "The Challenge" seems to have hit the top so fast, and that was only an album mix.
On this grand new CD5 single, we have 5 club mixes, and 5 radio mixes to back it up. A mild success only in the UK in 1996, this was ripe for today's sound of NRG mixed with stronger euro and trance influences. Of course, the original was a ballad by Yazoo in 1982. As most club pundits today are not aware of Yazoo, this is considered broadly as a non-cover track to most, except old folk like me in their late 30's or later.
Speaking of years, Ernest is in his 20th year of making dance music; and what a grand way to celebrate it. The "UK Extended Mix" (8:47) is by Mike Coppock and Tony Spalding of Majic Music, who have done a dazzling job on the main remix. The strength of the orchestration is amazing, at times sounding a tad like "Living On Video" (TRANS-X) in the breaks, and at other times sounding like the finest of Germany's vocal trance groups. There is even a small snippet of flamenco guitar in it that would make J-Lo blush with envy. You may remember Mike from his fine releases on the high quality Loading Bay HiNRG label.
The next club mix is called the "Chris "The Greek" Panaghi Club Mix", a fellow well know in the New York and USA clubs for his big room circuit house remixes of artists such as Celine Dion, Jessica Simpson, Erasure and Gwen Stefani to name a couple of pop stars given his treatment for the clubs). Think Hex Hector or Tony Moran when they are in a good mood, and this is his style.
Next up, is the brilliant mind behind the best mix of "All I know" from 2004. The "Robert Oleysyck's Extended Club Mix" has a rolling bass line with a smashing euro feel that is wicked. For those who like the dreamy (*not like Robert Miles dreamy*) style of electronica based HiNRG bass lines with crashing percussion that would make GIORGIO MORODER blush today, will adore this mix. It is dark, rambling and viciously addictive. At times, it reminds me of the Thunderpuss remix of Leann Rimes "Can't Fight The Moonlight" and Hex Hectors's flawless remix of J-Lo's "Waiting For Tonight"; which were dazzling affairs (unlike some of the men I have dated at that time!) . I like this mix so much it hurts - really, damn this is good dance music editing.
The "Erasure on meth" inspired tone on the "Julian Marsh's Power Drive Extended Club Mix" is not terribly good, but if you like early 90's Erasure pitched up to the max (most noteably "Supernature" and "Blue Savannah"), you may like this. Julian Marsh is a circuit DJ, and we all know the drug of choice at these all night bashes is now speed, instead of "X"; so perhaps he is catering to his audiences new interest in music that is not so unbearably tribal house and noisy. I have to say I am surprised he'd make a mix like this, and at this BPM; as this is not his forte. Oh well, the old girl has his following I guess. If this is the new direction of circuit parties for the boyz, then maybe I'll start attending again!!! The drag tribal house thing seems to be dying a sadly long death, and euthanasia should have been prescribed long ago, so at least they are trying to change to a more uplifting feel in those parties. Thank God!, I thought Gay's were supposed to have "style".
The final mix, is presented by the timeless production skills of one of HOT TRACKS most revered remixers. The "Stephen L. Freeman" sounds much like a reworking of the Robert Oleysyck version, just slightly re-edited, with some new guitar effects that remind me of Hex's work on Toni Braxton's smash "Spanish Guitar". No "massive" difference, and again; the "Living On Video" styled bass lines are ripped to perfection.
"Only You 2005" is a worldwide release through many huge labels in the world, including ZYX in the EU. Thankfully, a 12" has also been released for vinyl and includes all 4 new 2005 12" club remixes for the DJ's and pundits who still adore their vinyl. I-N-C-R-E-D-B-L-E release - amazing, and to all out their producing, this is how a cover should sound to achieve success today.
Rating : 5 Stars
Jason E. Davis, Editor
EuroDanceHits.Com (EuroNRG Division)