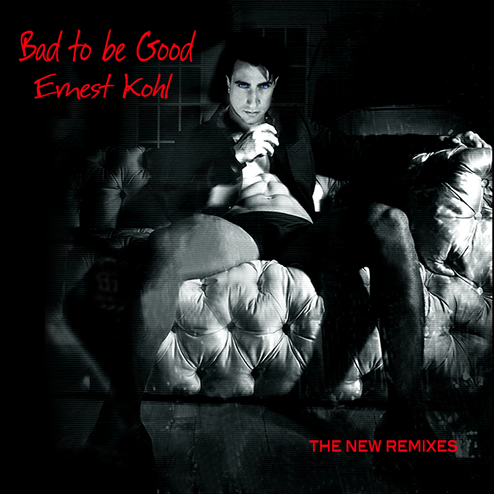 "Bad To Be Good - The New Remixes"
Ernest Kohl, recording artist and multi-talented performer, has become a celebrated force within the music industry with an impressive body of international hits. With 21 consecutive "Top Ten" smash singles, seventeen of which soared to the Number One position in Dance Music Authority (DMA), Billboard, Street Sound and Dance Music Report's (DMR) Top Fifty charts and Dance Radio charts, it's no wonder Kohl received DMA's "Best Male Vocalist" Award in 1990. From 1991 to 2012 he received nominations for "Song of The Year," "Best Producer/Arranger" and "Best Live Performer" as well as "Best Male Vocalist." In just a few short years, Ernest has also established himself as an accomplished producer, musical arranger, writer, actor, dancer, director, choreographer and chairman of his own independent production company.
His crowd-thrilling performances have made his concerts a favorite in major venues throughout the world. Ernest's boundless energy has earned him the reputation of being one of the hardest working and most exciting live performers in the recording industry today. New York City Music Critic Zecca recently praised Kohl for "showing us all why he won the "Best Male Vocalist" Award. "His extraordinary voice, looks, and performance coupled with complex choreography left the others in the 'dust.'"
Ernest has been singing, dancing and acting professionally since childhood. His formal training began at The American Musical and Dramatic Academy in New York City. A protégé of famed vocal teacher Katie Agresta, Ernest credits her for helping him develop his critically acclaimed vocal talents. He has studied dance with the American Ballet Theater and the respected choreographers Chuck Kelly and Drew Packolyk. Kohl's interest in contemporary dance then led him to a successful collaboration with choreographer A.C. Ciulla (choreographer of Broadway's dance music sensation "Footloose" and a former member of the Grammy-nominated C&C Music Factory). This creative alliance has produced a new, even more energetic dimension to Kohl's live "The Explosive Tour", "The Tornado Tour" and his production "The Importance Tour/Tour De Importance", and his production "The Make You Weak Tour" as well as his video performances. Ernest now even delves deeper into his passion for contemporary dance, teaming with some of New York City's hottest new choreographers, launching into Ernest's Concert and Media endeavor "The Ernest Kohl "Hits!" Tour"/"Ernest Kohl Live."
In addition to his respected recorded catalog, Ernest Kohl's media appeal is igniting worldwide. Released via video format, Ernest has many highly-rated chart busters currently in distribution: "Don't You Want My Love?/Stomp", "Follow Your Heart," "Our Love Is Here To Stay" and "Sooner or Later" (the original version). Ernest also released "Sooner or Later '96", a brand new production of his previous smash hit which enjoyed renewed popularity on radio and club play and the video smash "Don't Let Me Down Again" on ZYX Records, which was also a featured song on the multi-million selling compilation "US Dance Party!". Ernest's hit video,the world-wide smash "Only You" which received audience raves, as well as critical praise for its enthralling new combination of music and visuals that showcase the magnetic imagery of Ernest Kohl.
Ernest has managed to bridge the gap between touring dates and his own production chores. Recently, his production, arranging and writing talents have contributed to the worldwide successes of such artists as: Phoebe Snow, Cappella, Jeanie Tracy, Linda Imperial, Vicki Shepard, and most recently, Ms Pepper MaShay. The acting credits of Ernest Kohl are as varied as the vehicles in which he's appeared. His stage work has included roles in musicals such as "Cabaret," "Carousel", "Joseph and the Amazing Technicolor Dream Coat," and "The Rocky Horror Show." His film debut as a pimp in Euro-London Film's "Night People" is a stark contrast to his portrayal of Anthony Brent, a radical college student in Warner Bro's.' "The World According to Garp."
Ernest has enjoyed a successful modeling career that has landed him in the pages of GQ, Vogue and Newsweek. Currently working with consummate photographer Jack Pedota ("Batman Returns"), Kohl is featured as the Smalto Man in Smalto Cologne's "You Make Me Weak" advertising campaign. Ernest's critically applauded full-length studio album/CD "The Importance of Being" produced the import hit singles "This is the Moment" and "Moment to Moment" (Overture to Ernest)", "Live It Up" and the massive smash single and video hit "Only You", that has already taken the world by storm. "The Importance of Being" album/CD was produced by Ernest Kohl along with legendary producers Tom Moulton (Grace Jones, The Trammps, Gloria Gaynor,) Steve Skinner (arranger of Bette Midler's Grammy Award-winning "From A Distance," producer/arranger of "To Deserve You," and co-producer/musical arranger of the Pulitzer Prize-winning, Grammy-nominated musical and original cast recording "Rent" which won four Tony Awards, including "Best Musical"), Eric Beall (Martha Wash), David Freiberg (Jefferson Starship). In addition to the album "The Importance of Being," Mr. Kohl has also released the first two of a series in his anthology collections entitled "The Portrait of Ernest Kohl - Vol. I and Vol. 2."
Ernest's recent number one release entitled, "You Make Me Weak" (The Remixes) is available on Wide Angle/EMG Records. The original version of "You Make Me Weak" appears on "The Importance of Being". This new release is a CD maxi-single with a dazzling array of turbo charged remixes that are destined to make this a major crossover hit for radio and clubs. Also featured on this new maxi-single is a special new holiday song "Happy New Year! with a special guest cameo appearance by diva du jour, Ms. Pepper MaShay, "Happy New Year!" is so catchy it's bound to become a holiday classic, and sure to make you ring out the old and bang in the new!! "Happy New Year!" is also featured on the special benefit album/CD "Carols Across America", a CD benefiting Aids and Women's Breast Cancer. Mr. Kohl is proud and honored to be a part of this great project.
Ernest Kohl's number one smash release entitled "All I Know", a cover of the Jimmy Webb evergreen, originally recorded by Art Garfunkel in 1973. Ernest's new update took him on a quest to England to get the "new" sound he wanted to create. This is a sizzling hot new update of the song, pioneering the genre of progressive crossover dance. Ernest's new "All I Know" features an array of intense and slamming mixes by Mike Coppock and Tony Spalding, Julian Marsh, Stephen L. Freeman and Robert Oleysyck. The reviews were nothing short of sensational. It topped many prime DJ's charts and record pool charts, two weeks before its retail release Ernest Kohl's "All I Know" is also a featured track on KLONE Records newest popular "Mad About The Boy #12" compilation in the UK.
Ernest has introduced a new take on one of his previous hits, "Only You" this time completely updating it in to a scorching progressive trance/pop crossover masterpiece entitled "Only You 2005" (available on CD maxi-single and vinyl) which also features an enticing video. This new interpretation of the classic is the follow up to Ernest Kohl's back to back number one smash hit's "All I Know" and "You Make Me Weak" from his album/CD "Hits!".
Ernest Kohl's successful album/CD "Hits!" is a brand new collection of his smash hits from his enormous catalogue over the past three decades. This is a special collection celebrating his 20th year in the music industry, in which each year he has scored a "Top Ten" record every year somewhere on the globe since 1985. The new album/CD also contains some special new remixes of his classic hits! Released early 2005 on Waako/REDdance/Benz Street/ZYX/EMG/Sony Music.
Ernest was successful in the performance of his 2005/2006 World Wide "The Ernest Kohl "Hits!" Tour", "Ernest Kohl Live", playing to sell-out crowds and receiving rave reviews along with dividing his time doing press and media promotion for the new single and his new album/CD. Ernest Kohl's "Hits!" also has the great honor of winning "Best Greatest Hits Album" for 2005 and the single "Only You 2005" won "Best Remake Of The Year" as well.
Following the huge success of his next #1 charting single "Live Like You Were Dying" Ernest presented his fans with the single most requested remake of his career, "To Save the Love (remixes)" from his new 2008 full length special edition 2 CD Greatest Hits collection entitled "Essential" released on Dance Street/ZYX/BMG/EMG which also featured his single "Say Adieu" with 12 slammin' remixes. "Essential" hit the coveted #1 position in January of 2009 and "Say Adieu" hit #1 In February of 2009 as well, a "Kohl Double Hitter"
Also in 2009 "The Ernest Kohl UK Greatest Hits Mega-Mix Album" - Mixed By UK Mix Master/DJ David Strong became a world-wide sensational hit Album/CD For Ernest Kohl.
2010 started strong for Ernest Kohl, signing with a new label, Famous/EMG/Universal Inc. and the release of his brand new Full-length Maxi-Single "Wen U Dreem". Featuring 14 incredible remixes, it quickly rose up the Global Charts and over took radio! 'Wen U Dreem' is from Ernest's latest album
"Eternally", which was released on Famous/EMG Universal Records Inc. Ernest's next Maxi-Single CD "Be Near Me", within one month of it's initial release, topped the world club and radio charts at #1. This was yet another excellent cut from his most highly anticipated album project ever, the highly acclaimed double Album/CD set entitled "ETERNALLY", which was released on September 28th 2010 on Famous/EMG/Universal Inc. The new Ernest Kohl "Eternally" Album/CD with in 3 days of It's Release Hit The World Chart Top Ten &immediately Hit #1 and remained in the "Top 5" For 11 months standing.
The next double Maxi-Single CD from the "Eternally" Album/CD to be released was "To Be With You" on Jan 11th 2011 and featured 30 Remixes By the world's top remixers of today. "To Be With You" quickly took to the top of The World Chart at #1 and stayed there for over 7 months including radio and club play.
Ernest's next release was a dream come true as well as a great honor, as he sang the title cut "Being Alive" from the new Stephen Sondheim Movie "Company". Released on July 12, 2011, this new Maxi-Single CD release was lauded as one of the finest rendition's ever of this great classic Sondheim work and quickly hit #1 on radio as well as mainstream club play making a Broadway song popular for today's new generation ("Being Alive" was also a featured track on the "Eternally" Album).
Ernest Kohl's next endeavor was yet his most ambitious achievement to date (taking 2 years in the production) Ernest Kohl personally produced "The Legends Of Dance' Double CD/Album Set. This magnificent album/CD Set was a work of art produced for charity, to help those with HIV/AIDS For GMHC(Gay Men's Health Crisis). For Legends Of Dance, Ernest Kohl cast the #1 Dance Artists Of The 70's, 80's and the 90's. Each of the artists, including Ernest Kohl, all worked for free for this great charity production, featuring their 'Greatest #1 Hits Remixed for Today'!
The compilation included such top name stars as Linda Clifford, Nicki French, D.C. La Rue, Pamala Stanley, Col. Abrams and Grammy Award Winner Phoebe Snow. With Phoebe, Ernest Kohl produced a duet remix entitled "The Fugitive Of Love", which turned out to be Phoebe Snow's last recording, as Ms. Snow died of a massive stroke before the final remix was complete. Ernest Kohl finished the remix so this great work of art could be shared with the world. Ernest also gave freely to the Legends Of Dance compilation, not one but two of his classic hit's which he had remixed "To Save The Love" and "Sooner Or Later" ("Sooner Or Later - The New Remixes" was also released as a full new maxi-single CD to accompany this wonderful package). Released On Oct 11th, 2011 both entered the World Chart at #1 and remained there until February of 2012. "Sooner Or Later" is still in popular radio rotation today.
Also, to promote this incredible work of charity, Ernest Kohl hosted his own weekly radio show on New York City's #1 Jammer DISCO 935 entitled "Dance News Today" with co-host VJC and for each week, for one year from that date, had each Artist and Producer and Remixer on the show to talk about their careers, lives in the music biz and promotion of "The Legends Of Dance" Double CD Set.
Another 'Dream Come True' For Ernest Kohl happened more recently: On Jan 1, 2012, was the exciting release of The Original Broadway Cast Recording Of "Avantgarde". In 1982, Ernest Kohl starred in this wildly successful stage show at age 16! It was closed due to union conflicts of terms of new contract with the producers of this smash hit Broadway musical. Pulled out of the vault this past year, the soundtrack was restored, remastered and finally released. This was a promise Ernest Kohl had made to his fellow cast members, sadly because all of the male cast members of "Avantgarde", except Ernest Kohl, died of Aids within 10 years after the musical closed on Broadway. All the female cast members are living and have great careers to date. When Ernest Kohl fulfilled his promise to his fellow lost dear cast members, this new release quickly became a lost Broadway musical gem!
It is so well received and so exciting that talks of a new updated revival are now in the works. Ernest Kohl has even agreed to recreate and update his original role. In fact, to see if it could be done, Ernest Kohl personally re-produced and remixed two songs from the original score, the title song "Avantgarde" and the second act opening dance number "Sand Fleas", which were released on March 28th, 2012 . The release coincided 30 years later to the exact opening night date of the original Broadway musical! Another miracle happened 3 days later, in the April 'World Chart', "Avantgarde" finally charted 30 years after it's initial release in the Top 50 and stayed in the top 50 for 5 months!
For Next Maxi-Single CD release On July 3, 2012, Ernest Kohl was given the honor of recording "Anyone Who's Ever Been In Love" From the new up-coming movie and musical "The Cosmopolitan" written by Golden Globe, Emmy Award Winners Lance Horne and Josh Rhodes. This new maxi-single featured 30 fantastic new remixes by the world's top remixers and immediately hit the #1 spot on the World Chart and went on to become the only record to ever keep that position for that length of time in the history of this chart, making this a record breaking hit for Ernest Kohl until December of 2012. Also, it featured not one but four enticing video's!
"Happy New Year!" was a Holiday song recorded by Ernest in the past and became an accidental hit as he wanted to wish the world and his fans a special 'Thank You and A Very Happy New Year Filled with Joy, Love and Music'! He remixed "Happy New Year!" and released a video as a holiday gift to the world. Well, another miracle happened because "Happy New Year!" as a fun and sexy video charted and hit the #1 Single spot on the World Chart. This was a complete shock to Ernest and all involved! It remained there from the Holiday release in 2012 until St. Patrick's Day, 2013! A total shock indeed!
In fact, Ernest Kohl's next release already on deck and slated for release, the remixed title track of his "Eternally" album (as a Full Maxi-Single CD) was released on February 8, 2013. It immediately hit the World Chart and rose quickly to The #2 position! With Ernest's "Happy New Year!" at #1, Ernest Kohl was the 1st Artist ever to be simultaneously Number 1 and Number 2 on the World Chart, making Ernest Kohl another record breaking Double Hitter!
As soon as "Happy New Year!" moved out of rotation on the World Chart, the new "Eteranlly" Maxi-Single moved right into the #1 position and held that position the full length of it's Chart Life!
Next, another surprise came for Ernest Kohl, he was approached by the Broadway revival of the smash hit Broadway Musical "Jekyll & Hyde" to reprise his title anthem hit "This Is The Moment", which he performed for the Original Broadway Production of "Jekyll & Hyde". Now remixed in a new production for this also new hot revival, accompanied by a very hot, intensely dramatic and very sexy video "This Is The Moment 2013" was released May 2, 2013 On EMG/Universal Music Group Inc. and within 4 day's of it's initial released Hit the #1 position on the World Chart and is currently still in the #1 position, standing strong. It was the 1st record to ever Hit #1 so quickly on the World Chart, making it yet another record breaking hit For Ernest Kohl.
Ernest Kohl's next Maxi-Single CD and video release is currently in production and already promises to be very surprising and exciting indeed! In fact, it is so exciting we dare not speak of it's nature so as not to spoil the big surprise! The release is already set for early summer 2013, date forthcoming ... i.e. very soon! So be on the lookout as all we can tell you is that this one is definitely very, very "HOT"!!!
These new releases are definitive of the new sound of Ernest Kohl. Both the new album and singles are being dedicated in memorial tribute to Brian Scott Harper, Ernest's Partner and manager of 14 and 1/2 years who recently passed away from a massive heart attack. (A Great Loss!). This new release truly shows the strength, confidence and perseverance of Ernest Kohl to continue as Brian Scott Harper would have indeed wanted. The new musical direction of Ernest Kohl promises to mark his arrival as pop music's leading man.